Navigation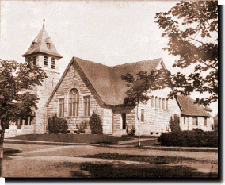 Yarmouth County Museum and Archives
Singing our "anthem" Ode to the Elbow at our 20th anniversary celebration performance at the Yarmouth County Museum, joined by two former members.
To see group photos from
1997, 2007, and 2011,
click here

The Shantymen open the Fish Aid Festival: Yarmouth, August 1998.




With the Bellamon Sisters, bringing holiday
cheer to the Yarmouth Farmers' Market.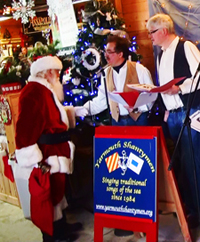 Even Santa wants to be a Shantyman!




Sometimes we actually get on a ship!
(sailing to New Brunswick for a concert)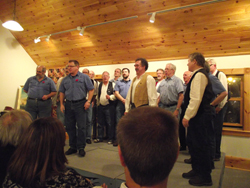 Joint concert at Yarmouth County Museum with
Before the Mast of Saint John, New Brunswick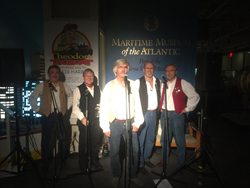 Performing at FIN 2019
The Yarmouth Shantymen began somewhat accidentally. In 1984, Eric Ruff, then Curator of the Yarmouth County Museum (retired 2005), asked a number of musical friends to accompany him to illustrate a talk on sea shanties at the museum. Sea shanties are rhythmic work songs used by centuries of sailors to coordinate their pulling to hoist sail and cargo, and to perform other tasks onboard ship before the age of steam. This was to be a "one-time" gig! Years later however, the group is still going strong.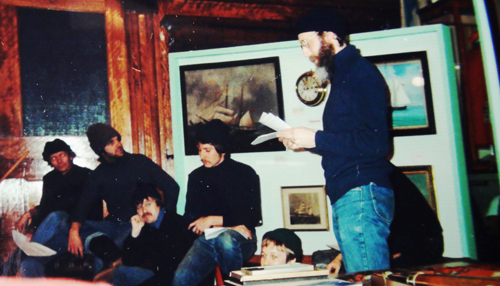 The crew of ten on that auspicious first voyage consisted of Eric Ruff , David Sollows, David Mahoney, Wayne Robicheau , Lloyd Prosser, Stephen Sollows, Christopher Allworth, Oliver Bonham, Don Soucy, and Peter Zavitz.
Living in Yarmouth, Nova Scotia, an Age-of-Sail shipping port and, now, an active fishing port, made it easy to love the time-polished melodies and worldly-wise lyrics. After a return presentation at the Museum, we became The Yarmouth Shantymen.
Three of those charter members remain: Eric Ruff, David Sollows, and David Mahoney. Wayne Robicheau remained a member until he retired to Cape Breton in the 20-teens. Those who replaced originals and still haul lines are: Brad Fulton, Gordon Rothwell, and Jim Rideout. Long-time crewmen who marched inland in the 2000s are Mark Pitman, James Colbeck and Bob Macconnell; while Stuart Bradley, Mike Mason, Mark Palmer, and Ed Kennedy sailed with us at various times along the way.

Singing at th'YARC playhouse in Yarmouth on Canada Day, 1992
left to right: Bob MacConnell, James Colbeck, Lloyd Prosser, Wayne Robicheau, David Mahoney, Brad Fulton, and Mike Mason.

The Shantymen perform in a variety of venues for diverse gatherings. We can be found singing at the local "Fish Feast" celebrations during SeaFest each July, participating in community events such as Canada Day, Battle of the Atlantic Sunday services, entertaining a tour bus crowd in a local hotel dining room, performing for participants at a conference, doing educational workshops in schools, and we provided entertainment on board the Nova Star ferry between Yarmouth and Portland several times while she served that route. Occasionally we sing just for fun on Yarmouth's historic waterfront - this usually followed with a visit to the brew pub on the wharf!

Some of the groups for which we have provided a lively source of entertainment are: the Association of Nova Scotia Municipalities, the Nova Scotia Chiropractic Society, Nova Scotia Block Parents, the Swedish Women's Hockey Team, and the Nova Scotia Women's Golf Championships.

At the Lunenburg Folk Harbour Festival, 2012

We have travelled as well, joining in the festivities at the Mahone Bay Wooden Boat Festival, the Lunenburg Folk Harbour Festival, and the "Pirates Brannigan" at the Explore Oak Island Days, as well as giving concerts in communities between Yarmouth and Halifax. We have done exchange concerts with Before the Mast, a fine shanty group from Saint John, NB, in Yarmouth and New Brunswick, and have represented the province of Nova Scotia on the waterfront of Bar Harbor, Maine, and joined with other international performers at La fête des chants de marins in Saint-Jean-Port-Joli, Quebec, in 2003. We've been appearing annually on the waterfront stage at Halifax's Maritime Museum of the Atlantic each summer, and in 2019 entertained at FIN (the Halifax International Film Festival) for the reception following the premiere of The Lighthouse.