Navigation

See us in performance on


The Shantymen at the Lunenburg Folk Harbour Festival, 2012

A light moment at The Incredible Picnic, 2011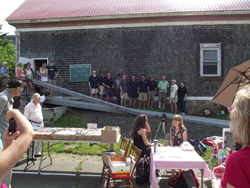 Flash mob with Before the Mast
at Grand Manan Farmers' Market, 2013

We even get to serenade celebrities like Miss Canada International 2008, Alesia Fieldberg.

In concert at the Yarmouth County Museum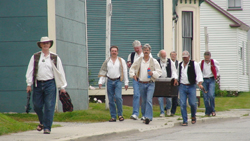 Heading for the Great Nova Scotia Fish Feast,
complete with sea chest of props!
Sea shanties are rhythmic work songs used by centuries of sailors to coordinate their pulling to hoist sail and cargo, and to perform other tasks onboard ship before the age of steam.

Surrounded by the Atlantic Ocean and walking among Yarmouth's grand homes that the 1800's shipping boom built, we developed empathy for the sailors' lives. We sing with a happy, free harmony and honour the sea shanty's traditional a cappella style. The Yarmouth Shantymen's performances and three CDs deliver shanties about the love of sweethearts and strong drink, hard shipboard life, fearsome ocean weathers, and of ports of call the world over. Our Music tab has samples. The Yarmouth Shantymen have been seduced by the ancestral music of these anonymous Mozarts of the sea, as ever was a sailor freshly come to port with a pocket full of money, walking down a street with well stocked taverns and fast company.

Performing at the Great Nova Scotia Fish Feast, a part of Yarmouth's annual Seafest celebrations

Joint concert with Before the Mast in the Hall of the Great Whales, New Brunswick Museum, Saint John, NB, 2012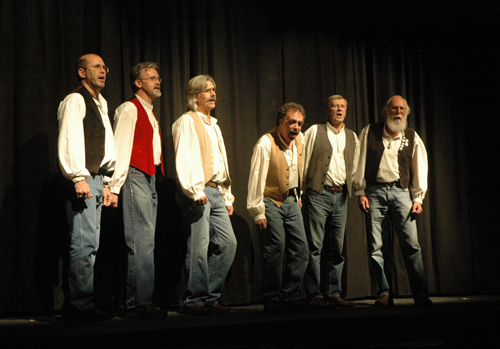 Opening Nova Scotia Music Week 2009 at th'YARC, Yarmouth.

The Shantymen on ice: singing O Canada! at the Mariners Centre, Yarmouth